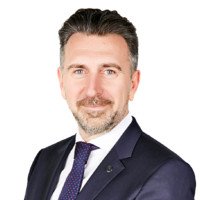 Vince Courtney
Group Sales Director of Andrews
Track record
Vince started in the industry in his hometown of Worthing in l986. He went on to get his first managerial role aged 20 (it was the 80's!) before running an agency in Brighton for many years. He then relocated to Berkshire in 1996 to join Romans as Manager of their Wokingham office – they had 4 offices at the time. In 2002 Vince was made a Director and oversaw 6 offices before being promoted to Managing Director of the whole residential sales division in January 2010.
One of Vince's greatest achievements was leading Romans Sales to winning the accolade of The Sunday Times Best Estate Agent in the UK for an unprecedented 2 consecutive years which was where he first met Simon Whale (once met never forgotten), who was picking up similar awards for Reapit – Roman's CRM provider.
In September 18 Vince took on a new venture and joined Haslams in Reading to oversee Residential Sales, the New Homes Sales Hub, Lettings and Client Management. Haslams already had a fantastic reputation and Vince helped strengthen the foundations to enable the company to make their first ever acquisition which they successfully achieved in December 2020. In February 2021 Vince joined Andrews Estate Agents as Group Sales Director, with the ambition of helping drive growth and maximising the potential of what is already a very successful company.
Vince always try to set a great example for others to follow and has a very strong work ethic whilst being very approachable with a firm but fair management style. He enjoys helping to develop and progress people and has always had a healthy policy of trying to promote from within, whenever possible.
My favourite suppliers
My favourite books
Creating Magic - Lee Cockerell
Marketing Warfare - Jack Trout
The Last Lecture - Randy Pausch
If I could tell you just one thing - Richard Reed.
My favourite quote
"When you talk you are only repeating what you already know. But if you listen, you may learn something new" – Dalai Lama.
"Life is about doing the right thing, on a difficult day, when no one is looking" – Lt Col Lucy Giles.
"I am an optimist. It does not seem too much use being anything else" - Winston Churchill.
Know of an influencer who should be on this list?
Recommend one and embrace the kerfuffle community spirit