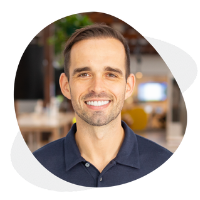 Anton Babkov
CEO | Co-Founder of Rex Software
Track record
After a short career in commercial law, Anton found his place in the tech space and together with his brother, Alex, built the very first version of Rex. Their mum, Lana was a successful real estate agent and wanted a better way to stay in touch with her growing database.
Since its market launch in 2011 Anton has continued to lead the Rex business from early start-up to early maturity. With the growing domain knowledge that came from talking every day to agents and admins, Anton found new opportunities to build great new tech to solve the real day-to-day challenges in a busy agency. Today the Rex suite also includes Siteloft (a website-as-a-service business) and Spoke (digital ads platform) and covers 2 locales, (AU/Z and UK).
"We're hugely excited to the in the UK, even though COVID has certainly slowed down our launch momentum. I loved spending my time between Brisbane and London and right now I'm hanging out to get on the next plane."
Anton guides the growing Rex teams across Australia and the UK with passion and a commitment to enable estate agency professionals to deliver their best selves to their customers. "This is an industry of amazingly talented individuals that everyday is helping people find their 'home'. Building great tech to help them do this brings all of us closer to the human importance of a place to live."
My favourite suppliers

Kerfuffle rating: 4.1/5
Kerfuffle rating: 5.0/5
My favourite books
Where Good Ideas Come From: The Natural History of Innovation by Steven Johnson
Team of Teams: New Rules of Engagement for a Complex World
by General Stanley McChrystal
High Output Management "by Andrew Grove
My favourite quote
"And one more thing" Steve Jobs
Know of an influencer who should be on this list?
Recommend one and embrace the kerfuffle community spirit