April was the most popular month ever for electronic signatures among Rezi estate agents
When the world went into lockdown in March 2020, the digital shift accelerated, with the real estate industry – along with many others – forced to become more online-orientated.
This shift has been exemplified by the increase in Signable documents or electronic signatures being sent out by sales and letting agents.
Luckily for Rezi users, our software is seamlessly integrated with Signable – the UK's best electronic signature software provider. And in April 2021, we saw more Signable documents sent for electronic signatures by Dezrez or Rezi estate agents than ever before.
A record-breaking month for electronic signatures in real estate
In April 2021, estate agents using Rezi sent more electronic Signable documents than ever before, with the trend showing just how dramatic the increase has been.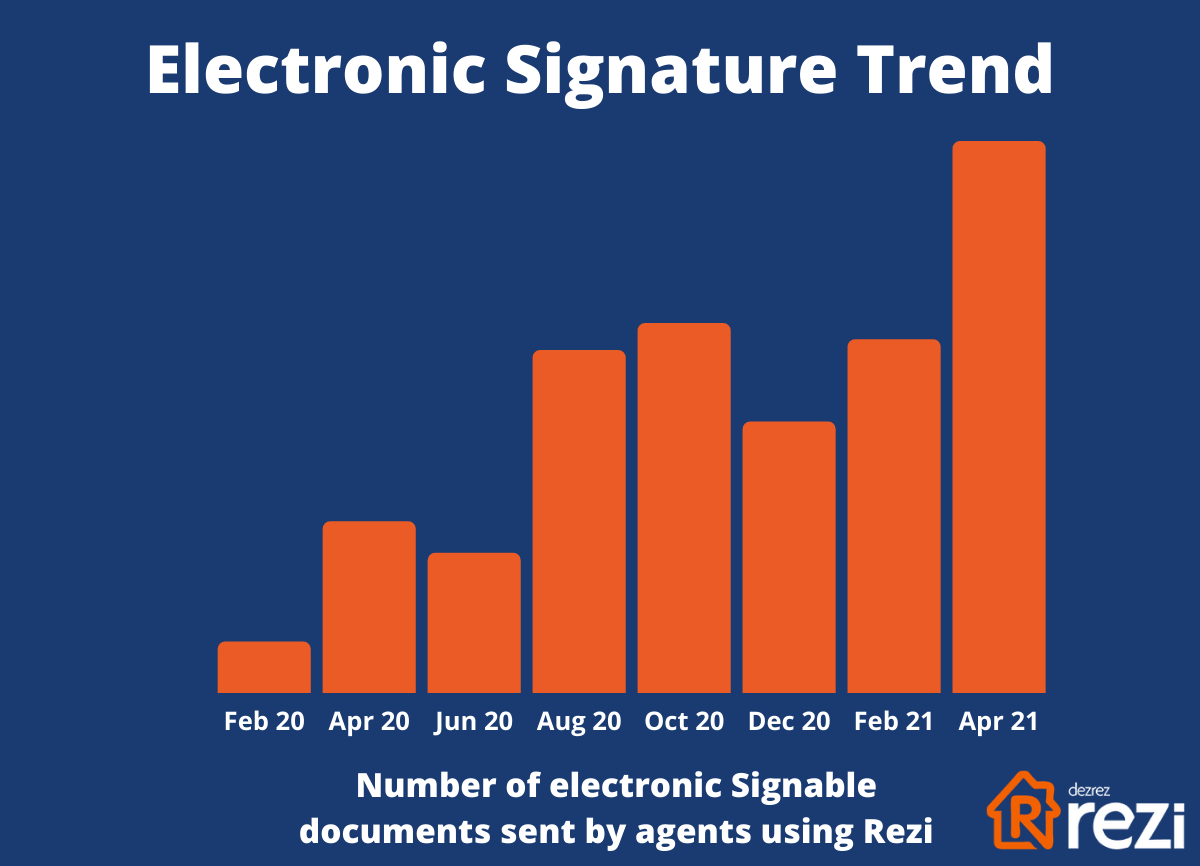 From February 2020 to April 2021, there has been an incredible 982% increase in Signable documents sent by estate agents using Rezi. There was even a 49% increase during the last two months (March 2021 and April 2021).
­­­­What are agents saying?
Steve Wiggins, Director of Bond Residential, said:
"As a company we love to embrace new innovations. However, in a market that is inundated with new products it can be difficult to establish which ones enhance your business and which ones have been created to solve a problem which was just never really there.
Before adopting anything new we need to satisfy ourselves with positive answers to the following questions before we move forward.
- Can it integrate seamlessly into our business and procedures?
- Will it make our staff's jobs simpler and more efficient?
- Will it enhance and simplify our customers experience?
We started using Signable at one of the busiest times we have ever experienced and after almost 6 months of using it we can honestly say that it is now an integral part of our business and has made the process of document completion far quicker and simpler for staff and customers alike." Steve Wiggins, Director of Bond Residential.
Richard Milner, Head of Sales at Dezrez, praised the Signable integration with Rezi:
"Signable is yet another tool that has fast become a key part of our customers' business, ensuring a quick and efficient process for both our clients and theirs!"
Using Signable within your estate agent software
As Rezi is fully integrated with Signable, you are able to send documents to be signed electronically right from within the estate agency software itself. Rezi essentially provides a free electronic signature software programme for its real estate agents.
How does it work?
Simply go to Signable from within Rezi and upload the document you need to have signed, enter the signer's details and submit it. The person who needs to sign the document will then receive an email prompting them to sign it, which they are able to do once they click the unique link within that email. This can be done without any specific tools or registration, it's super easy and quick to do!
All that is needed is internet connection – clients can sign from anywhere at any time, regardless of the device they're using.
If you're worried about the legal side of things with electronic signatures on property purchases, don't be! It's completely legit and legally binding. Check out Signable's guide to legal signatures on documents for more information or head over to our full page on the Signable integration.
The benefits of Signable
Branding – By using Signable electronic signature software through Rezi, you are able to maintain your business' identity.
Tracking – You are able to track the documents you send for signing in real-time, and you will be notified when each action is completed. The time and date of opening, sending, and signing the document is logged.
Anywhere, any time – Rezi and Signable's fully online API means that it is accessible from anywhere, on any device with Wi-Fi.
Multiple signatures – If you need more than one signature on a document, which is often the case with property documents, Signable documents can be configured and sent to as many people as you require, securely.
Signable and Rezi's integration helps agents streamline their business even further, removing the need to chase clients for signatures.
With the Signable and Rezi integration, agents are able to:
- Accelerate business and close deals sooner
- Organise documents with ease
- Do it all within Rezi (fully integrated)
- Track the status of documents
- Be notified as soon as a document is signed
- Sign electronically, anywhere in the world
- Save money, save time, save trees!
---
Who are Dezrez?
They are on a mission to connect the property world. We're able to do this by giving agents control of their applications and data, whilst integrating with 1000's of market place apps. Rezi not only saves agents time and money, it's streamline reporting suite also drives actionable outcomes that focus on helping agents sell more properties.
Find out more by heading to their Kerfuffle page here.
---