As of January 2021, the Dispute Service has been working in partnership with Complylex, the online compliance-based platform. Together, both organisations have been working to help property professionals navigate complex industry legislation and raise standards in the Private Rented Sector (PRS).
Property law can be confusing, even for property professionals. To help, the Complylex platform has been designed to provide concise, accessible information on property law presented in a way that is easy to understand.
What is Complylex?
COMPLYLEX™ is an essential compliance and best practice tool for every Letting Agency and Estate Agency in England and Wales. COMPLYLEX™ gives the property professional a simple, clear and concise guide to complex property law. COMPLYLEX™ can run in a browser but it is also a Progressive Web App (PWA) designed to run on laptops, PCs and mobile devices. This valuable tool is affordable, accessible, easy to understand and users are kept up-to-date with any regulatory changes via emailed updates. COMPLYLEX™ will help all property professionals including negotiators, administrators, property managers and directors, to follow best legal practice, twenty four hours a day.
With legislation and therefore obligations changing continuously, it can be difficult to stay updated with the key changes that are happening across the industry. There are a host of sources that provide information on these updates such as the Government website, Citizens advice and NRLA. The Dispute service recognised this issue and also know that lack of knowledge creates the potential for compliance issues to occur, which is why the recent partnership with Complylex is a positive one.
The information that Complylex provides is all in one place and when a law or regulation that may affect you changes, you will instantly receive an email updating you. This includes laws that currently differ as a result of Covid-19.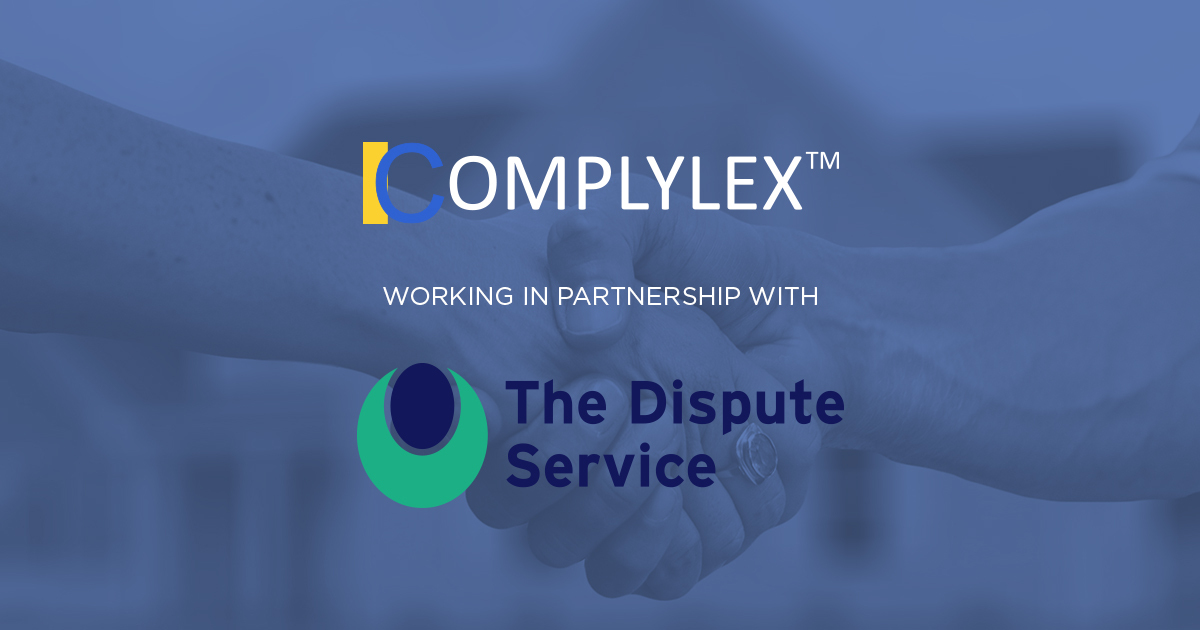 "The Dispute Service has always been committed to raising standards in the PRS. There is a huge amount of legislation and regulation around lettings that can cause confusion or prove difficult to find. It is essential that agents and landlords stay well-informed on legal changes to avoid compliance issues and penalties. Up to now, that has not always been easy," commented Steve Harriott, CEO at the Dispute Service.
Price is of course an important factor to any service, and this is no different when it comes to lettings. Complylex offers their service to estate/letting agents for just £25 per branch per month, with landlords being able to use the Complylex service for £60 a year.
Complylex have an exclusive deal for Kerfuffle members: Free 1 month trial for new customers.
The Dispute Service working in partnership with Complylex aims to increase this offering further by providing customers with additional benefits when subscribing. TDS Academy provides property professionals with invaluable training in tenancy deposit protection and tenancy deposit disputes. Customers that sign up to Complylex using the code "TDS" will be entitled to varying discounts to attend these courses which can also be used to gain CPD points. Full details of the benefits are listed below;
All landlords that sign up to Complylex will receive a 20% discount on TDS Academy courses.
TDS agent customers that sign-up to Complylex using the referral code 'TDS' will be entitled to five free TDS Academy sessions per branch, per year. Agent customers will need to provide their TDS membership number to qualify for the free sessions.
Agents who are not yet customers of TDS can also benefit from a 20% discount on five TDS Academy sessions per branch, per annum, if they use the referral code 'TDS' when signing up to Complylex.
To enquire about this deal deal hit the I am interested on Complylex Supplier page