5 Costly Questions You Must Ask A Web Design Agency
With an estimated 90% of sales leads coming from online sources, your website is a business's most valuable marketing resource.
An estate agent's website, for example, has even replaced the company's physical location in terms of generating business and revenue.
Vendors, landlords, buyers and tenants now start their search for a trustworthy local estate agent from the comfort of a smartphone or tablet, rather than hitting the streets.
This is why a new website is a business investment that will be repaid by the leads it generates.
But just like smartphones, website technology is constantly evolving.
Your Apple iPhone 7 might have been the bee's knees when you took delivery of it in late 2016 and, like your business website, the outdated smartphone probably still works. But it fails to deliver the functionality that come as standard with new models.
Websites are the same. They have come a long way in terms of functionality and design since 2016. However, many company owners who commission a new website express disappointment when they take delivery of the finished product.
Art Division's research reveals that in the majority of cases this is because the business owner failed to ask the correct questions when engaging with a web design specialist. If they had asked the right questions, they could have avoided serious pitfalls before it was too late.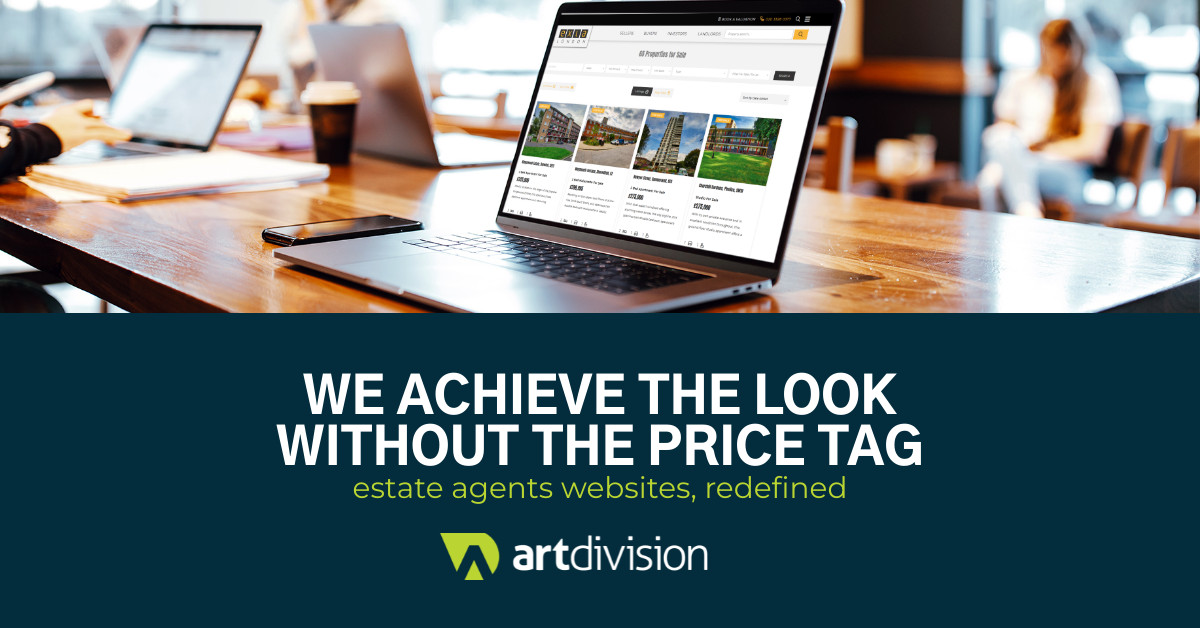 5 Questions businesses, such as estate agents must ask when planning a new website
There are five key areas to cover when selecting an agency to create a new website. Here, Art Division comes up with the answers you need to receive when asking five crucial questions.
1. What is the purpose of my new website?
A business website can serve many functions, from generating leads to increasing brand awareness, but for your investment to deliver value for money, every site must be both flexible and able to grow and expand with the business.
This is critical if you want your website to be a business investment, rather than an ongoing cost that robs you of potential customers.
Most business sites are designed to generate sales leads, which means it must have a content management system that is both flexible and adaptable.
A bespoke CMS might sound impressive but they are designed to be less flexible and may require additional work every time you need a new function added to the site.
The same applies to an off-the-shelf CMS. These one-size-fits-all solutions are often designed by a specific company and can be costly to maintain. While you would not allow your top-of-the-range sports car to be maintained by a non-franchised garage, the opposite applies to a CMS.
Choosing a time-tested, flexible CMS like WordPress means you'll have all the functionality you need.
2. How much will it cost to keep the site maintained?
Just like any technology, a website will need occasional maintenance to keep it in optimum condition. There are many companies charging a licence fee, but this does not necessarily mean they will update or upgrade your website as well. In many cases this covers a licence fee to use their Content Management System and functionality and offers very little in terms of a service.
Many open-source CMS systems like WordPress, Joomla and Drupal release regular upgrades to their core system and plugins. Those need to be installed on your website and then tested to ensure the upgrades have not caused any issues.
So, ask your supplier what they include in their maintenance plans and ensure they commit to regular website upgrades.
Ultimately, costs can vary greatly depending upon the size of the website and its requirements (you can explore our pricing options here).
3. Can I add new features to my website?
There's nothing worse than commissioning a new website, only to find out it's awkward and expensive to add new features. This is a costly mistake to make, because these new features could help you expand your business or generate new leads.
Just as technology develops at a fast pace, so do business needs. While your new website may deliver 100% satisfaction when you take delivery of it, what will happen if you want to add new features to its functionality?
Every site should be built with this in mind.
4. What about ranking with search engines and converting traffic into leads?
It doesn't matter how good a website looks or its level of functionality if your customers cannot find you. If you want your website to generate leads and conversions, it must be built with this in mind.
Many web design companies claim to offer SEO-friendly sites but not all know what this actually means. Including Google-friendly meta titles and description alone is not an SEO friendly site. There are many more aspects to consider.
For example, can you add any schema code? Is the URL structure correct? Are the pages loading fast on a mobile device?
Equally, an estate agency site should have the right type of calls to action on the right pages. Will your new site allow you to create different types of CTAs and place them throughout the site?
Watch this video on why estate agents fail to convert leads:
Why do estate & letting agency websites fail to convert leads?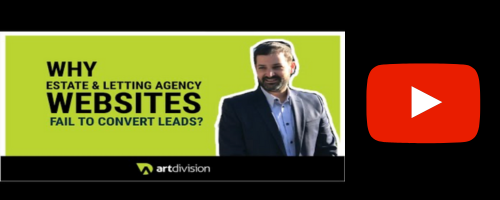 5. Can I connect my website with other 3rd party tools and apps?
It's great to have your website well-laid out with plenty of calls to action. But what if you want to take your marketing a step further? A good website needs to be flexible, and accommodate 3rd party apps and plugins to increase your leads and conversions. Let's face it, the best estate and letting agents use every tool at their disposal, and so should you.
Fortunately, if your website is WordPress based, then there are hundreds of useful 3rd party apps and integrations to choose from.
For example, you could connect WhatsApp or install a chatbot, which both help customers to contact you quickly and easily. Apps like Locrating can display detailed maps which show the school catchment area for your homes. Or, you could add an instant valuation tool, which helps landlords or vendors accurately estimate how much their homes are worth.
So, make sure your website accommodates the most important 3rd party tools – or you may miss out on critical leads.
Why choose Art Division's web design services?
It's simple: we can create visually stunning websites for a fraction of the time and cost.
We know that most estate and letting agencies require a similar set of website features - from property search functions to valuation pages. What sets them apart is their visual design, content and properties.
So, we've spent the last couple of years perfecting a core website system which can apply to any estate agency site.
So what are the advantages?
You save time – because we've created the core system already, we can have your website ready to launch in just 4-6 weeks. Most bespoke websites take between 3-6 months.

You save money – our modular system means you only pay for the features you need. If you need more later, these are quickly and easily added.

Achieve 'bespoke' website quality – because we don't build sites from scratch, we can dedicate a lot of time to the visual design. That way, your website achieves a beautifully bespoke appearance (but without the high price tag).

A reliable system – our core system has been tried and tested extensively across many websites, which means you're less likely to encounter crippling delays or malfunctions after launch.

It grows with your business – if your business grows, you need a website which is ready to expand with it. It's no use spending thousands on a bespoke website, only to realise it's out of date within a couple of years. Our system lets you easily add the features you need as your business grows, because we have already built them.
If you've still got questions, why not book a free demo with Art Division? We can show you how our flexible web design can help you achieve more leads and conversions.
---

Find out how Art Division can help your agency here.
---