We're excited to announce our first group buying deal for Kerfuffle members. Yomdel has provided us with a sliding price scale for their award-winning 24/7 managed live chat service – the more agents we sign up the lower your ongoing cost.
Yomdel supports agents in becoming 'customer service champions' by providing high-converting live chat, mystery shopping, and market research services. Yomdel is trusted by thousands of estate agents from national brands, regional players, and smaller independents so this is a real coup for Kerfuffle members.
Yomdel live chat is much more than a pop-up at the bottom of the screen. A detailed knowledge bank is created to ensure skilled live chat operators can represent as a genuine extension of your own team. And as Yomdel is managing more than a million chats a year on behalf of estate agents they know just about every type of question that will be asked to give them the confidence to engage in conversation with new or existing customers.
Rather than just collecting name, contact details, and a message, Yomdel validates and qualifies enquiries to quickly identify hot leads based on your specified criteria. They then send a summary of the chat and a full transcript through to you within minutes, with options to integrate into your CRM.
Yomdel also has the ability to track visitor journeys and set up specific rules for different pages of your website so that a relevant message appears depending on which page the user is on. For example, if they're on a page that details your landlord services and fees then the likelihood is they are an existing or potential landlord and so the message could be along the lines of "Hi, if you're looking to let out a property I could offer a free rental valuation. Shall we chat?"
According to Yomdel, in a normal market typically 2% of website visitors will engage with online chat services, 54% of these conversations happen out of hours and a third will convert to a lead.
The current market is far from normal as we know but with the government now giving the green light for estate agency services to continue providing necessary safety measures are in place and many agencies operating with skeleton teams, it is important that agents have support services in place to help prevent leads being missed. The number of people currently engaging via live chat is increasing considerably.
Yomdel's latest sentiment tracker study which analyses live chat engagement levels across the 3,800 estate agency offices that Yomdel serves showed a significant rise in live chat conversations now compared to any other time since 2014.
Andy Soloman commented: "We've not seen anything like this since Yomdel began supporting agents with 24/7 live chat in 2014. The volumes of people seeking help and wanting to engage with agents online has gone completely off the scale."
We recently held a webinar with Andy Soloman on 'Building customer communications around your website."
Exclusive Kerfuffle deals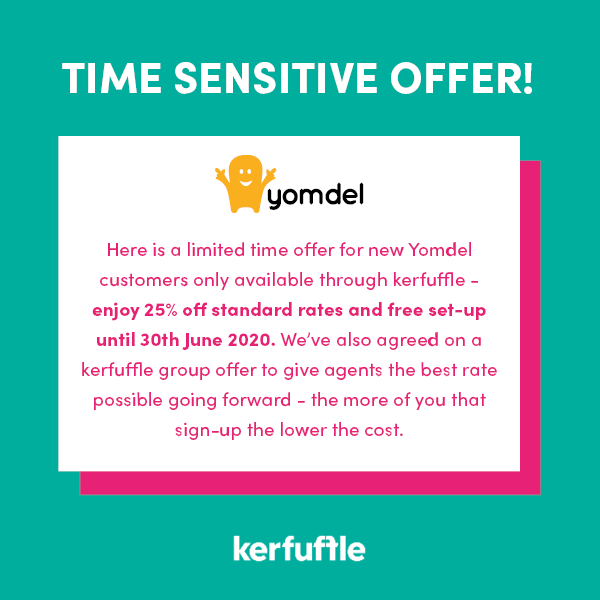 Until the 30th June Yomdel is offering any agent that registers their interest via Kerfuffle 25% off standard rates and free set-up. In addition to this, they're also offering an ongoing group offer where the more agents we sign up the lower the ongoing cost per chat is.
Whether you're a new or an existing Yomdel customer you can benefit from our group buying offer.
Sound good? Register your interest now