PIP Ltd
A PIP Vault is a digital dataroom to collate, store and display property documents. Documents can be posted by the... Read more
Here's your exclusive kerfuffle deal: PIP Vaults are FREE until 29th September 2021 - for any new PIP Vaults opened after this date will... Read more
A PIP Vault is a digital dataroom to collate, store and display property documents. Documents can be posted by the seller, seller's conveyancer or Estate Agent. Potential buyers can inspect these documents before making an offer.
£25 plus VAT only on a succesful sale (exchange of contracts)
Setup / Onboarding
Estate agents can complete the registration form online, they will be confirmed and given access within a few hours.
Training & Support
A half hour demonstration is given for staff members as well as access to "How to operate video".
Product range
PIP Vault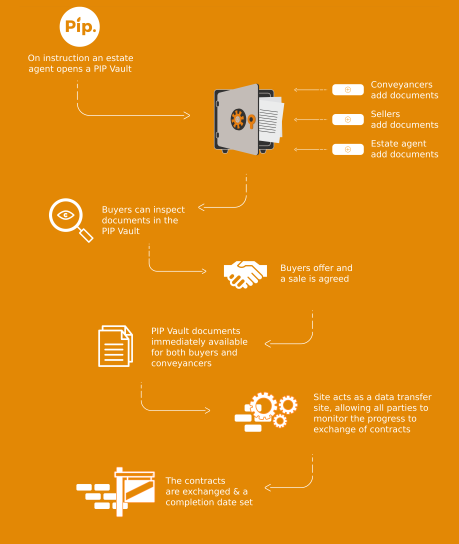 Problems we solve for agents
We provide the dataroom with specific access arrangements, so the seller can collate and store their proerty documents in one place(the estate agent and seller's conveyamcer can also post documents) The PIP link is added to the estate agents details, advertising and websites so potential buyers can access the information prior to making an offer. The estate agents can moniter who sees the documents.
Follow this supplier's social pages
Supplier Videos
Know of a product that should be on this page?
Recommend one and embrace the kerfuffle community spirit